The Aftermath:
Earth-dwellers probably thought the space storm had completely blown over. Indeed, the clouds of plasma had passed, and their immediate effects had died down; the longer-term effects, however, had just begun. Two rings of plasma called the Van Allen radiation belts normally lie trapped around the Earth between the orbits of high-flying geosynchronous satellites and the low-orbiting Space Shuttle. When the shock wave associated with the May 4 storm smashed into the radiation belts, the electrons trapped there were energized to new heights and were spun around the Earth to new locations. Satellite data showed that a new radiation belt had formed between the normal two by the end of May 4 and did not subside until the middle of June.

That the high-energy electrons of the radiation belts are known as "killer electrons" does not bode well for satellites flying near the belts. During the period of disturbed conditions that May, the Equator-S satellite failed; the Polar satellite suffered blackouts; four of Motorola's Iridium satellites were lost. The most famous failure, however, was that of the Galaxy IV communications satellite, handler of some 90 percent of U.S. pager transmissions and several television and radio feeds. At 6:00 PM EDT on May 19, Galaxy IV's onboard control system and backup switch failed, proving to at least 40 million pager customers across the United States the fragility of satellite communications. Over the next few days, PanAmSat, Galaxy IV's owner, scrambled to transfer signals to other satellites and fix the communications blackout.

Although PanAmSat dismissed any solar causes for the satellite outage, blaming instead circuit-damaging "tin whiskers", some scientists disagree. An October 1998 article in the newspaper Eos stated boldly that "killer electrons" flooded the satellite and damaged its electronics. Since high-energy electron levels were far above normal for at least three weeks, the article stated, Galaxy IV slowly fried to death. The true cause can never be determined, but the concept suggested is striking -- extended periods of space weather such as the week of activity in early May 1998 can create highly abnormal conditions for satellites and inconvenience millions of people at one blow.

Quotes and Anecdotes:
"The magnetic storm expected from the X1 event of 29 April arrived late on 01 May and is now of major proportions." Patrick S. McIntosh (from ISTP SEC Event, May 1998)
"Last night (mainly between 10 & 11 pm (but really from 9 pm to beyond midnight) I witnessed, with my wife the best aurora here at WW that I have seen for 40 years. The 10-11 time span was the best with aurora covering up to 60-65% of the night sky. Mostly blue green but a light pink background at times. [...] There were multiple horizontal bands with vertical striations. Some pulsating. Parts would come and go. Then there would appear shooting dark & light bands that would go from horizon nearly to zenith. A rather intense glow of blue green appeared in the NW. [...] Around 10:30 (all times PDT) I noticed some shooting shortened streaks from the East toward the zenith. At first I had to view this with averted vision. But then in a few minutes we saw these shooting patches (like "spirits" flying or like variable water from a fire hose (coming out in packets) and curving left and right) go from horizon (East) to west horizon and pass overhead SOUTH of the zenith. We watched them best by facing south! By this time 60-65% of the night sky was involved with aurora. [...] At its peak, the display was bright enough to nearly obscure the bright stars in Cassiopeia." Thomas Thompson on May 4 aurora at Walla Walla, Washington (from Aurora Monitor Project Status)
"Galaxy IV is simply in a prime orbital location to cover all the United States. For pages that want to cover all the area they can, that was the satellite to be on." Rebecca Petruck, a PanAmSat spokeswoman
"There was circumstantial evidence that a solar storm afflicted the satellite. The sun has its seasons that run on an 11-year cycle, but we weren't in the bad part of the cycle last year. We identified the [primary control] computer as the component that failed. Space weather looked possible, but the review of data didn't back up the theory." Michael Bodeau, manager of survivability activity at Hughes (from "'Whiskers' Caused Satellite Failure")
"We have ruled out any external causes and believe the satellite failure was due to a spacecraft component problem." Robert Bednarek, PanAmSat executive (from "The Satellite Fix Is In")


Chronology (all times Universal Time):


[April 29, 1998]
 16:00 -- Halo CME first visible in SOHO/EIT images
 16:58 -- CME appears in SOHO/LASCO-C2
[May 1, 1998]
 21:15 -- Shock detected by SOHO/PM
 23:56 -- Partial halo CME in progress, seen from LASCO
[May 2, 1998]
 13:40 -- X-class flare from region 8210
 14:06 -- Bright partial halo CME begins in NW quadrant of Sun
 14:20 -- High-energy protons arrive near Earth from flare
[May 4, 1998]
 02:30 -- Solar wind speed jumps from 500 to 700 km/s (at Wind)
 03:30 -- Wind speed jumps again to 800 km/s
[May 6, 1998]
 00:02 -- Bright partial halo CME appears in LASCO-C2
 02:28 -- Small, slow CME appears in LASCO-C2
 05:29 -- Wide, fast CME associated with X-class flare appears
[May 19, 1998]
 22:00 -- Galaxy IV satellite's onboard control system fails
 22:30 -- ABC and CBS video feeds freeze
[May 21, 1998]
 10:30 -- 85% of PageNet customers back online
 16:00 -- Most of Galaxy IV's transmissions switched to another satellite

Useful Sources:
ISTP Sun-Earth Connections Event, May 1998: http://www-spof.gsfc.nasa.gov/istp/events/1998may1/

A listing of the scientific data available for the event, with some summary information about the satellite observations.
Some background on the storm, with a focus on auroral observations from early May 1998.
Scientific article discussing the compression of the Earth's magnetic field during the May event.
Article on the cause of the Galaxy IV failure, dismissing solar activity as a possible contributor.
From ABC News, this article covers the Galaxy IV outage, effects, and attempts to recover from the outage.

Images from the Event: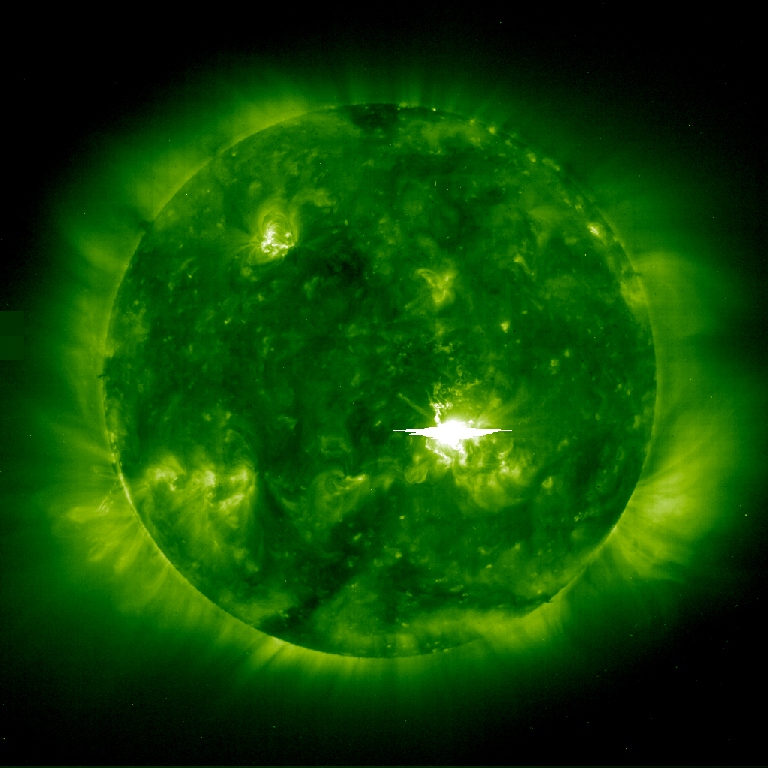 SOHO's EIT captures the May 2 solar flare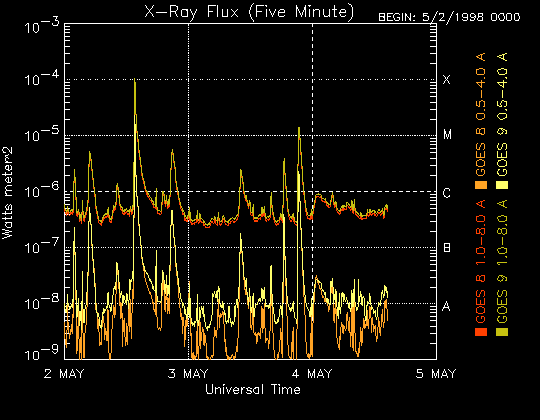 X-ray flux plot shows an X-class flare on May 2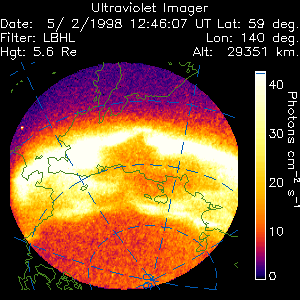 May 2 aurora seen by UVI on Polar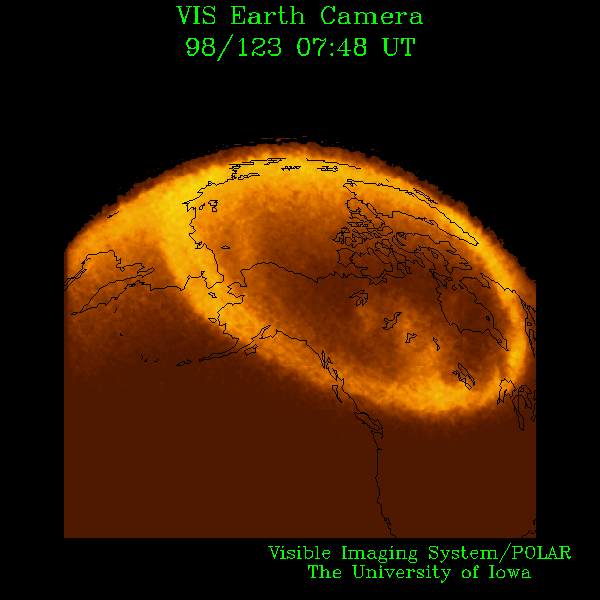 VIS on Polar sees the aurora on May 3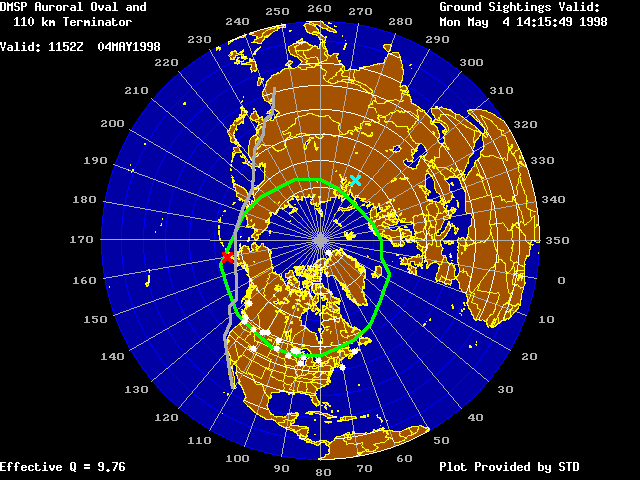 Plot shows auroral oval from DMSP, with white dots indicating ground observations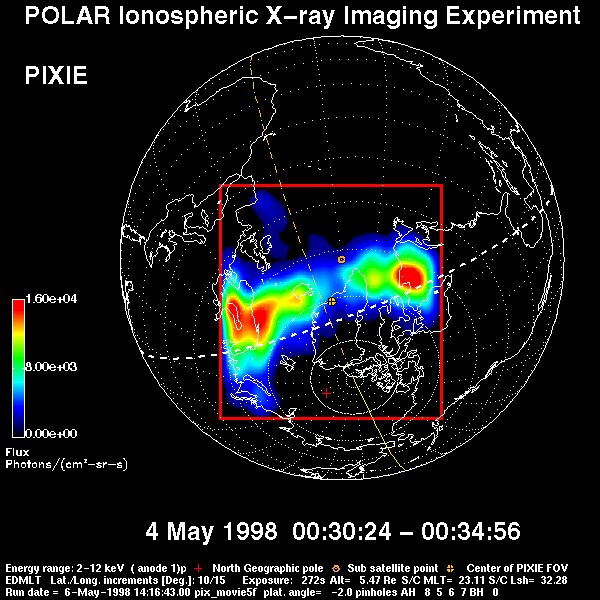 The aurora, as observed May 4 by Polar's PIXIE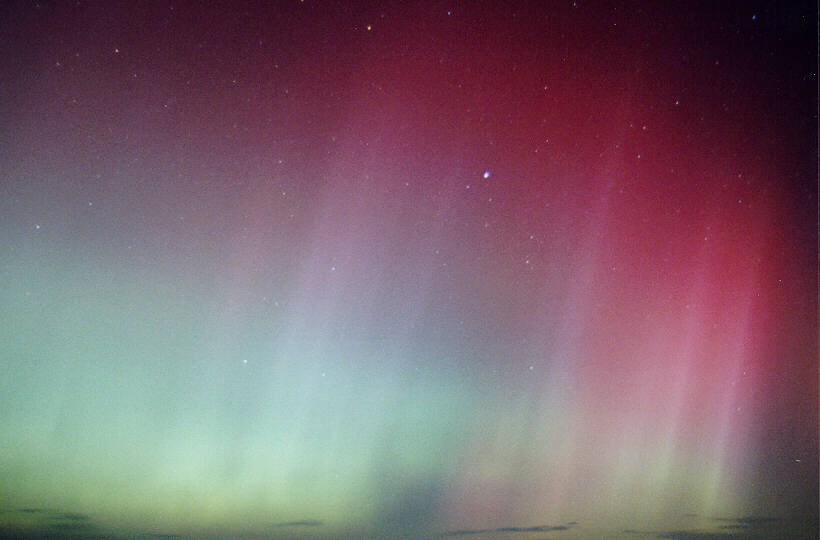 Brian Rachford's image of the May 4 aurora from Laramie, WY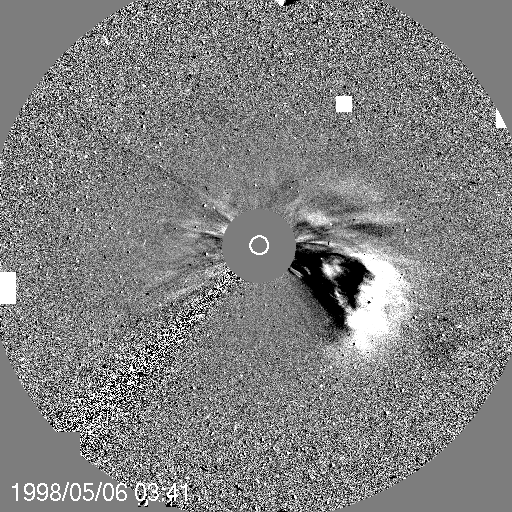 SOHO/LASCO images a CME on May 6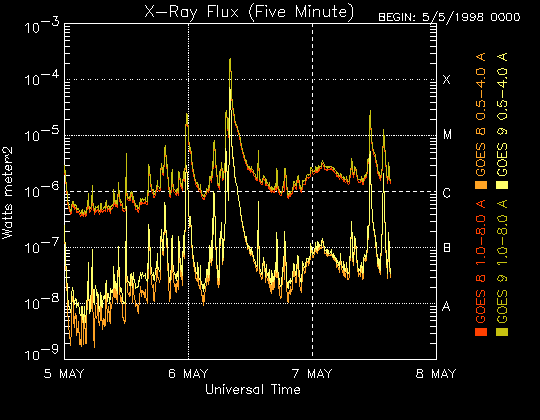 X-ray flux plot shows an X-class flare on May 6