ISTP/GEM Substorm Campaign: January 1-2, 1997
---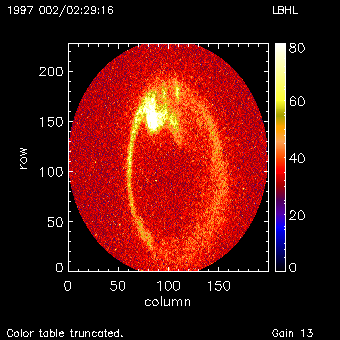 ---
Access to Data:
---
Event Description
On January 1/2, 1997, there was an optimal configuration of ISTP satellites with GEOTAIL and IMP-8 both crossing the center plane of the tail a few Re apart, POLAR taking auroral measurements and WIND monitoring the solar wind from ~20 UT on January 1 onwards. InterBall-Tail was also very well placed in the tail at this time. This ideal positioning of the key satellites was complimented by a large array of ground stations - the Sondrestrom, SuperDARN and EISCAT radars, CANOPUS network, and many other networks around the world.
A coordinated campaign was organised where the POLAR platform was orientated to best image the midnight region in order to watch the development of the aurora during substorms - the satellites in the tail were ideally located to detect dipolarizations and other tail modifications during the substorm.
Two small, reasonably isolated substorms occurred during the campaign interval - the first at around 21:45 UT on Jan 1 and the second around 2 UT on Jan 2.
The POLAR imagers saw beautiful aurora and there were many indications of substorm onset detected in the other instruments on board and also from the ground.
---
GGS Event Leader: Nicola J. Fox (301) 286 8872
Other events of interest may be found in the Catalog of GGS Events.