Disclaimer: The following material is being kept online for archival purposes.
Although accurate at the time of publication, it is no longer being updated. The page may contain broken links or outdated information, and parts may not function in current web browsers.
ISTP Hidden Words and Quotes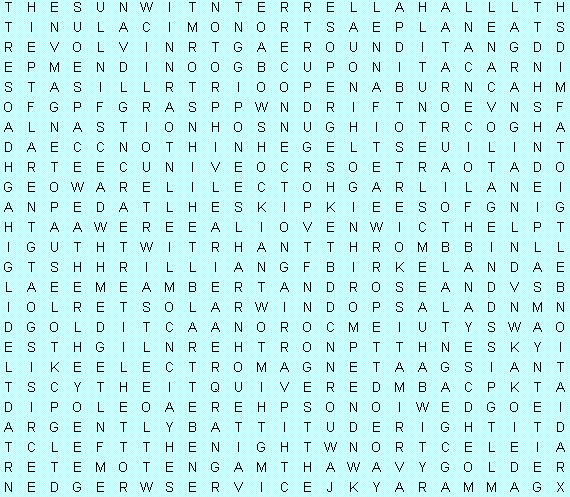 Look for the 35 following words in the puzzle above. (For explanations about what the words mean, look at the
glossary
from The Exploration of the Earth's Magnetosphere.) Once you have found all of the words, the remaining letters will spell out two interesting quotations about Sun-Earth connections.
ACCELERATION
ARC
ASTRONOMICAL UNIT
ATTITUDE
AURORA
BIRKELAND
BOW SHOCK
CME
CORONA
CURRENT
DIPOLE
DRIFT
DYNAMO
ELECTROMAGNET
ELECTRON
FLARE
GAMMA RAY
IMF
ION
IONOSPHERIC
LAGRANGIAN
MAGNETOMETER
MAGNETOPAUSE
NORTHERN LIGHTS
PHOTON
PLASMA
PROTON
RADIATION BELT
RECONNECTION
SOLAR WIND
SPACE WEATHER
STORM
SUNSPOT
TERRELLA
VOLTAGE
See the solution -->
Above is background material for archival reference only.