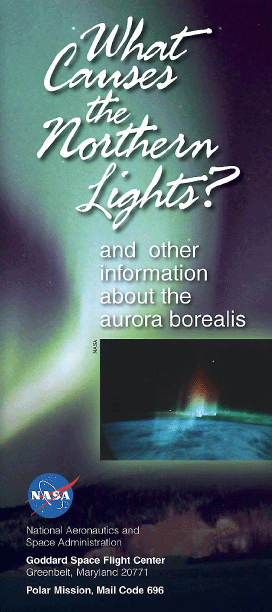 What Causes the Northern Lights?
Tri-fold, full color, general interest brochure answering many common questions about the aurora, including its cause and explanations of its colors, shapes, and location. Lists resources for further study.
Main message is to dispel the myth that particles from the Sun directly cause the aurorae. Briefly covers several other myths as well.
Artwork from NASA; photographs from Jan Curtis and others.
Reviewed by scientists and the GSFC Education Office before print; currently undergoing OSS scientific and educational review.
Will be distributed through SECEF, Education Office, and the LEP to educators (via national and regional meetings, AESP, ERCs, OSS Broker/Facilitators – mostly through workshops) and to classrooms and museums.
First in a desired series of brochures from the Polar mission on Sun-Earth Connections topics.
&nbsp
Download pdf version of the Northern Lights brochure Northern Lights brochure.
&nbsp
&nbsp
---
Webmaster: T. Kovalick
NASA Official Responsible for Web Site: Adam Szabo
NASA Goddard Space Flight Center, Code 672
Greenbelt, MD 20771