In addition to studying magnets. Gilbert also looked into a vaguely similar phenomenon--the fact that certain materials, when lightly rubbed with cloth or fur, attracted light objects such as chaff. One such material was amber, a yellow fossilized resin called elektron by the ancient Greeks. From this Gilbert named such attraction the "electrick force," and from that came such words as electric charge, electricity, electrons and electronics. Gilbert even devised a pivoted lightweight needle--a "versorium" resembling a compass needle--to observe the direction of the electric force.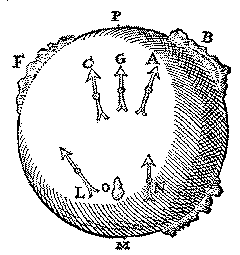 The supposed magnetic
attraction of land masses

Gilbert ascribed the deviation of the compass needle from true north to the attraction of the continents, which tallied with observations in the Northern Atlantic--the needle veered eastwards near Europe, westwards near America. Noting that near the islands of Novaya Zemlaya, north of Russia, the compass needle pointed west of true north, Gilbert speculated that a "north-east passage" around Russia might exist, giving more direct access by sea to the spice islands of the Far East. Some decades earlier, Frobisher and Davis had sought in vain a similar "north-west passage" around the American continent


The last of the 6 "books" into which Gilbert's work is divided deals with the motion of Earth in space and its possible connection to magnetism. Here Gilbert voiced complete support of Copernicus, "the Restorer of Astronomy," which made the book somewhat controversial. Galileo, who praised "De Magnete," obtained his copy of it as a gift from "a peripatetick philosopher of great fame, as I believe, to free his library of its contagion."
---
About the Background: 6. London in 1600
Next Stop: 7. Magnetism from Gilbert to 1820
---