Disclaimer: The following material is being kept online for archival purposes.
Although accurate at the time of publication, it is no longer being updated. The page may contain broken links or outdated information, and parts may not function in current web browsers.
ISTP Word Search, the Easy Version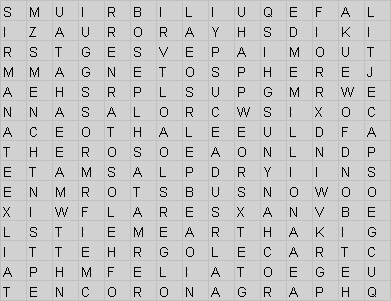 Find the following words hidden in the puzzle above! (Too easy? Try the
harder version
.)
ACE
AURORA
CME
CORONAGRAPH
CUSP
EARTH
EIT
EQUILIBRIUM
ESA
FLARE
GEOSPACE
GEOTAIL
GGS
IKI
ISAS
ISTP
MAGNETOSPHERE
MILLION
NASA
PLASMA
POLAR
SOHO
SUBSTORM
SUN
TRACE
WIND
See the solution -->
Above is background material for archival reference only.