Disclaimer: The following material is being kept online for archival purposes.
Although accurate at the time of publication, it is no longer being updated. The page may contain broken links or outdated information, and parts may not function in current web browsers.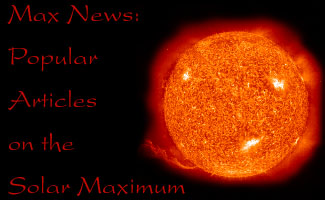 Since the upcoming solar maximum will be a big event in space, with many possible effects on our planet, popular news organizations have picked up on the concept and reported on it. If you want explanations designed for the general public, lots of pictures, and a broad range of information on the solar maximum, take a look at the following articles.
Above is background material for archival reference only.