Disclaimer: The following material is being kept online for archival purposes.
Although accurate at the time of publication, it is no longer being updated. The page may contain broken links or outdated information, and parts may not function in current web browsers.
Site Map
David P. Stern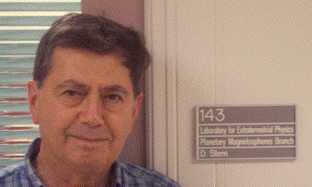 Retired September 2001 (continuing as emeritus)
Lab for Particles and Fields,
Code 672, Goddard Space Flight Center
Greenbelt, Maryland 20771
Home: 31 Lakeside Drive, Greenbelt, MD 20770
tel 301-474-4527
stargaze(symbol"at")phy6.org
(no twitter, no facebook, just plain e-mail!)
Born in Czechoslovakia, grew up in Israel; studied physics at the Hebrew University in Jerusalem and at the Israel Institute of Technology (Technion) in Haifa, with doctoral thesis on an underground experiment on cosmic rays. In 1959 joined Fred Singer's space group at the University of Maryland, then in 1961 came to Goddard Space Flight Center.

Main interests are mapping and physics of the global magnetosphere, also science education and history of science (headed AGU Committee on the History of Geophysics 1981-88, Eos history editor 1999-2001). Likes to write, keeps extensive notes, also travelogues of trips in the US and abroad. More detailed curriculum vitae as a web file here, or as a PDF file, here.
Some recent work:
Educational web sites
---
Last updated 29 April 2005
Above is background material for archival reference only.