Replace each circle with a coil of 10, 100 or more turns, carrying the same current (figure below): the attraction or repulsion increase by an appropriate factor. In fact, each coil acts very much like a magnet with magnetic poles at each end (an "electromagnet"). Ampere guessed that each atom of iron contained a circulating current, turning it into a small magnet, and that in an iron magnet all these atomic magnets were lined up in the same direction, allowing their magnetic forces to add up.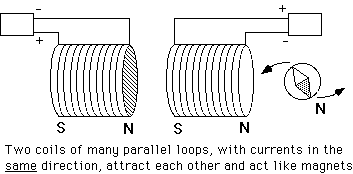 The magnetic property becomes even stronger if a core of iron is placed inside the coils, creating an "electromagnet"; that requires enlisting the help of iron, but is not essential. In fact, some of the world's strongest magnets contain no iron, because the added benefit of iron inside an electromagnet has a definite limit, whereas the strength of the magnetic force produced directly by an electric current is only limited by engineering considerations.
In space, on the Sun and in the Earth's core, electric currents are the only source of magnetism. We loosely refer to the region of their influence as their magnetic field, a term which will be further discussed later.
Further Reading:
Any high-school or college text on electricity and magnetism will give a much more detailed description of magnetic fields and their properties.
---
Questions from Users:
***