The laws of orbital motion are mathematical, and one cannot explore them without some mathematics. The math used here is rather elementary; if you need to refresh your familiarity with it, click here. You can also skip the equations and follow the narrative only.
The Mathematical Description of a Curve
As already noted, the cartesian system labels any point in a plane (e. g. on a flat sheet of paper) by a pair of numbers (x,y), its distance from two perpendicular axes. These numbers are known as the "coordinates" of the point.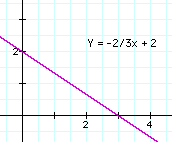 A line in the plane--straight or curved--contains many points, each with its own (x,y) coordinates. Often there exists a formula ("equation") which connects x and y: for instance, straight lines have a relationship
y = ax + b
where any pair of numbers (a,b), positive, negative or zero, gives some straight line. The plot of a line given by one of such relationship (or indeed by any relationship--even pure observation, e.g. temperature against time) is known as a graph. More complicated relationships give graphs that are curves: for instance
y = ax2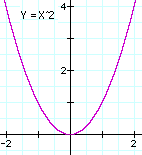 gives a parabola, with a any number. Usually (though not always) y is isolated, so that the formula has the form
y = f(x)
where f(x) stands for "any expression involving x" or in mathematical terms, a "function of x." The curves drawn here are the straight line y = -(2/3)x + 2 and the parabola y = x2. A list of some of their points follows below; if you have paper ruled in squares (as in the images here), mark the points and then try to connect them smoothly, with no sharp bends.