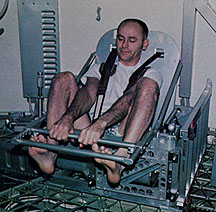 Mass measurements aboard Skylab were part of the medical experiments conducted there. Prior to the Skylab mission it was observed that both US and Russian astronauts returning from space had lost weight, and NASA worried whether this implied some physical deterioration which could grow worse on longer flights.
Several reasons were suggested for this loss. Because of gravity, blood pressure is higher in the legs (just as water pressure is higher at the foot of a watertower than it is halfway up), causing a counterpressure to be exerted by blood vessels there. Some believed that in a zero-gravity environment, the extra load opposed by this counterpressure did not exist, causing more blood to be pushed into the upper body, and the body, sensing the extra blood, eliminated it, causing a loss of fluids. Others blamed unnatural meal arrangements and loss of appetite due to nausea (which some astronauts developed, but others did not). Still others felt that work in space tended to be unusually stressful.
To better observe the process, Skylab carried three mass-measuring devices--two small ones (experiment M074) for measuring the intake and outgo of each astronaut, and a large one (experiment M172) with an oscillating chair, designed for daily monitoring of the weight of the astronauts.
The motion of the oscillating mass was tracked electronically, typically over three back-and-forth oscillations, and from this the instrument derived the oscillation period T. Theory predicted that T would be proportional to the square root of the oscillating mass; this was confirmed by calibrations in space, using previously weighed objects, and those calibrations suggested that when carefully performed, such mass measurements were accurate within 0.1%.
Measuring body mass in the M172 chair (see illustration) was not a simple matter. The human body is not rigid, and any internal motion--even breathing--could affect the oscillation of the chair. After emptying their pockets, astronauts would climb into the chair, always wearing a suit which had been weighed before the flight. They would then be strapped in rigidly, brace their feet against a bar at the front of the chair, grab hold of another such bar with their hands, hold their breath and then release the seat by pushing a trigger on the hand bar.
Astronauts of Skylab-2 lost 3-6 pounds during their one-month stay, and measurements of intake suggested they were not eating enough. On Skylab-3 food rations were therefore increased, and additional excercises were also ordered, to make sure that "body muscle was not exchanged for fat." Weight loss was comparable, even though the stay in space was twice as long, and it was noted that most of the loss occured in the first five days. The Skylab-4 crew was given still more food and more excercises. All three astronauts of that group lost mass during the first 10 days, but for the remaining 74 days they held their own or even gained mass back.
As for the reasons suggested for the mass loss, apparently all three of them contributed.
(Credit: Most of this material is based on the transcript of a talk "Physiological Mass Measurement in Skylab," presented by astronaut-scientist William E. Thornton, MD, and by Colonel J. Ord, USAF, at the Skylab Life Sciences Symposium, Johnson Space Center, August 27-9, 1974. I thank Joan Ferry of the Johnson Space Center History Archive for making this and other documents available. )
---
Questions from Users: &nbspEffects of weightlessness on one's body
---