We have tried to avoid repetitive excercises: each set is different. Do them all--do not leave any out! It is assumed that you have available a calculator which can derive sines and cosines, and also has functions sin-1 and cos-1 which given sinA or cosA can find the angle A, in the range 0 to 180 degrees.
A triangle ABC has a right angle C and two sharp (or "acute") angles A and B. The triangle's sides AC and BC on both sides of the right angle C are given as:
(a) AC = 3 BC = 4
(b) AC = 5 BC = 12
(c) AC = 8 BC = 15

In each case, use the theorem of Pythagoras to find the third side and then find the sine and cosine of angles A and B.
You are traveling uphill on a road and see a sign telling you it has a 5% slope, i.e. rising 5 meters for every 100 meters of road. What is the angle between the road and the horizontal direction?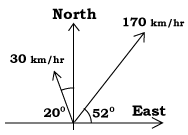 An airplane is flying at 170 km/s towards the north-east, in a direction making an angle of 52° with the eastward direction.

The wind is blowing at 30 km/s towards the north west, making an angle 20° with the northward direction. What is the actual "ground speed" of the airplane, and what is the angle A between the airplane's actual path and the eastward direction?

(The solution below uses vector components, as derived the section on vectors: read it only after you have tried to work out the problem yourself. Teachers in class may substitute different numbers and directions)

Let us denote the velocity vector of the airplane relative to the air as V, that of the wind relative to the ground as W, and the velocity of the airplane relative to the ground U=V+W, where the addition is one of vectors. Draw a diagram with the given speeds and angles labeled appropriately.

To perform the actual addition each vector must be resolved into its components. We get

Vx = 170 cos(52°) = 104.6 Vy = 170 sin(52°) = 133.96

Wx = –30 sin(20°) = -10.26 Wy = 30 cos(20°) = 28.19

Add:

Ux = 94.4 Uy = 162.15

From Pythagoras, since

U2 = Ux2 + Uy2, U= 187.63 km/hr

Therefore

cos A = Ux /U = 0.503125

Using the cos–1 button

A = 59.8°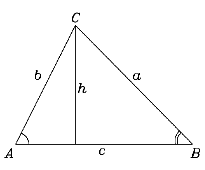 In a triangle ABC, we name the angles (A,B,C) according to their corners ("vertices," singular "vertex"), and name the sides (a,b,c), so that side a is facing angle A, b faces angle B, and c faces angle C. Prove the "law of sines"

sinA/a = sinB/b

Hint: From C draw a line CD perpendicular to side c. The line CD is a "height" of the triangle and will therefore be denoted by the letter h. Use h in your proof.

Before attempting the next problem, note two points: